Sunday, November 07, 2021  |  Greenville, SC
Gates open at 3:00 pm. The concert will begin at 5:00pm but come early for our special military program starting at 3:30pm.
Come early to browse displays of military vehicles!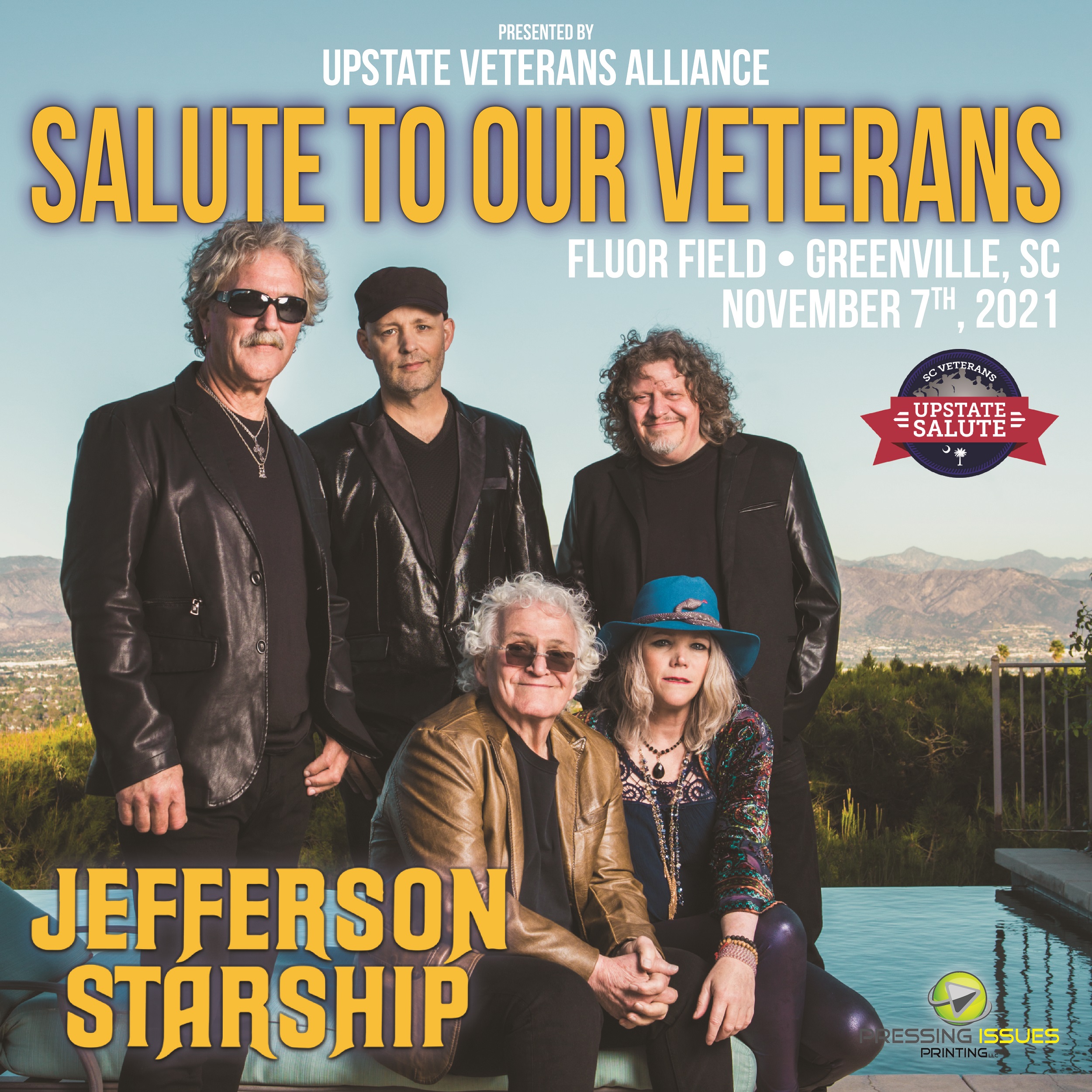 Warbirds Flyover Team
"Ladies and gentlemen, performing today's aerial tribute is The Warbirds Flyover Team.  Specializing in precision formation, The Warbirds are led by former Naval Carrier aviator and combat veteran, Hank Gibson of Jacksonville, Florida.  A Naval Academy graduate, he flew the A-7 Corsair and FA-18 Hornet strike aircraft and has arrested landings aboard 7 different aircraft carriers.  Now a corporate pilot, Hank and his team perform National Anthem flyovers for the NFL, NCAA, NASCAR, PGA and other corporate entities and Veteran's groups.
Team members are all veterans of the uniformed services and truly understand the dedication and sacrifice that our men and women are making daily worldwide.
Flying the post-World War II Nanchang CJ-6 and YAK-52, the popular radial engine powered military trainers which we call the "trophies of the Cold War" make the crowd pleasing distinctive rumble of yesteryear and make a terrific formation platform.
Today we celebrate the freedom of flight and honor all of those who have paid the ultimate sacrifice in the defense of our great nation and way of life.  The other pilots today are Richard Langer from Ocala, Florida –  Jimmy Burke from Lawrenceville, Ga – Matt Lazar from Carrolton, GA and Wayne Altman from Savannah, GA.
Special Forces Association Parachute Team
A brotherhood that honors the fallen because Freedom is Not Free!
The Special Forces Parachute Team originally known as the Green Beret Parachute Club was formed in 1961.
When we think about our soldiers, few of us consider what their sacrifices really mean. Missed births and birthdays. Missed anniversaries and holidays. Missed soccer games and school plays. Everyday moments with husbands, wives and their children are missed.
We have been doing professional parachute demonstrations for 54 years.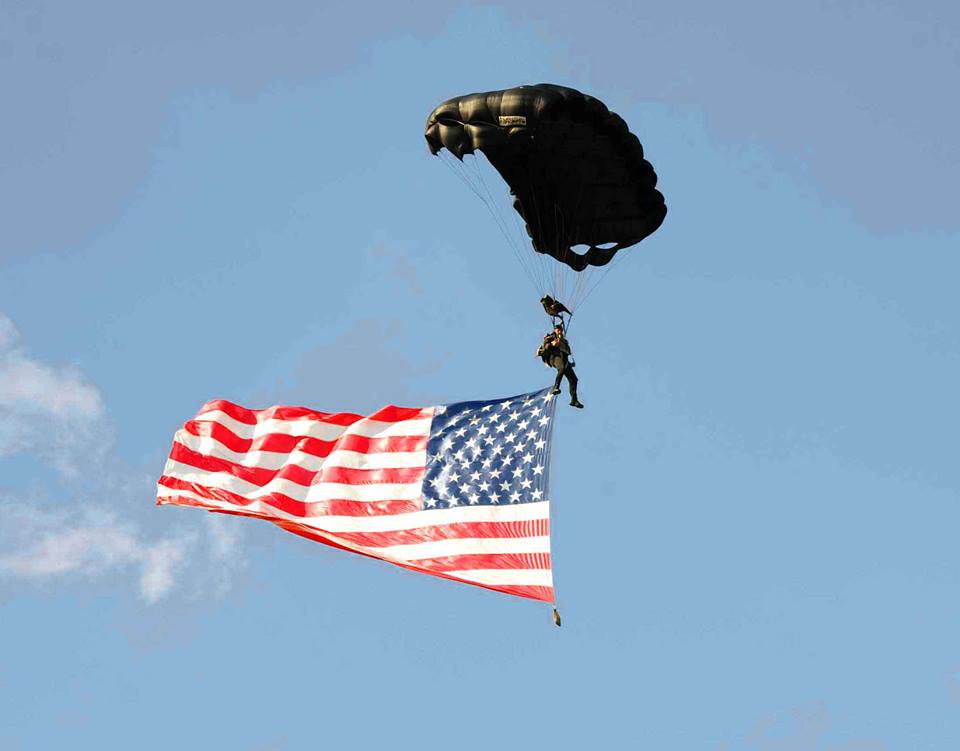 The legend of Jefferson Starship begins in 1970, when Paul Kantner released an album titled BLOWS AGAINST THE EMPIRE under the artist name "Paul Kantner and the Jefferson Starship". The story, however, begins with the coalescence of the band Jefferson Starship itself, in 1974. That collection of talent included John Barbata, Craig Chaquico, Papa John Creach, David Freiberg, Paul Kantner, Peter Kaukonen, and Grace Slick. They first toured as Jefferson Starship in 1974, and released the album, DRAGON FLY which was certified gold in 1975. Kaukonen departed the lineup after that initial tour and the remaining members welcomed Pete Sears on bass. Shortly thereafter, Marty Balin joined the Jefferson Starship lineup. Balin had co-founded Jefferson Airplane with Paul Kantner, and the Airplane roster also included Grace Slick, David Freiberg, and Papa John Creach at various points during that band's existence. Balin's addition to the Jefferson Starship lineup resulted in a reunion of sorts for all those players under a new banner. The new collection of personnel returned to the studio to record RED OCTOPUS, which was released in June of 1975. The record reached #1, propelled by the success of the hit singles, Miracles and Play on Love. It has sold over two million copies. Papa John Creach quietly left the band after this whirlwind success. Jefferson Starship's hit-making streak continued with 1976's SPITFIRE, which featured the hit, With Your Love, and 1978's EARTH, powered by the hits, Count on Me and Runaway.
​
The band evolved again in 1979. Marty Balin and Grace Slick departed by choice, and John Barbata had to leave due to a serious car accident. Mickey Thomas stepped in on lead vocals and Aynsley Dunbar picked up the sticks. This latest incarnation of Jefferson Starship produced the band's fifth consecutive hit record, FREEDOM AT POINT ZERO, thrust to gold status by the hit single Jane. MODERN TIMES followed in 1980, finding its way to gold certification on the wings of hit single Find Your Way Back, which appropriately described Grace Slick, who sang background on the album and returned to tour with the band in 1981. In 1982, Aynsley Dunbar left the group, and Donny Baldwin assumed drum duties. The band's 1982 release WINDS OF CHANGE would also produce two top 40 hits, Be My Lady and Winds of Change. 1984's NUCLEAR FURNITURE kept the band's streak alive, planting No Way Out on the top 40 and selling over 500,000 records.
Paul Kantner left due to creative differences in 1985, and after some acrimony with the remaining band members, the name "Jefferson Starship" was retired. The remaining members of Jefferson Starship at that point morphed into "Starship" and enjoyed continued success.
In 1992, Kantner returned to touring life and revived the name "Jefferson Starship". True to its legacy, the members have changed over time, but the heart and the magic of all those hits remain. Paul Kantner died in 2016.
Currently, the Jefferson Starship lineup features founding member David Freiberg, along with Donny Baldwin, Jude Gold, Cathy Richardson, and Chris Smith.
Fireworks!